Are there intruders in your family photos? There is no need to worry! Objects and people can be removed with these apps.
There are most likely a few times when you've taken a perfect photo and wished the person or object wasn't there While this would have been a big headache a few decades back, today it's very simple to fix.
A few seconds and a couple of steps are all it takes to remove elements from a photo using mobile applications. With this method, you can take a great photo and make it perfect.
We have in fact compiled a list of the best apps that will let you remove people and objects from photos directly from your mobile phone at anytime, anywhere. Let us show you what they are if you would like to see what they are all about.
The Best Apps to Remove Objects & People from Your Photos
You can erase people and objects from your mobile photos with these apps.
It's your lucky day if you're looking for a free app for removing objects from photos. Taking unwanted elements out of images is easy with these 7 apps.
Aside from deleting objects, it also has tools to edit, colorize, apply filters and improve your photographs, ensuring the best possible image straight from your phone.
1. ImgCleaner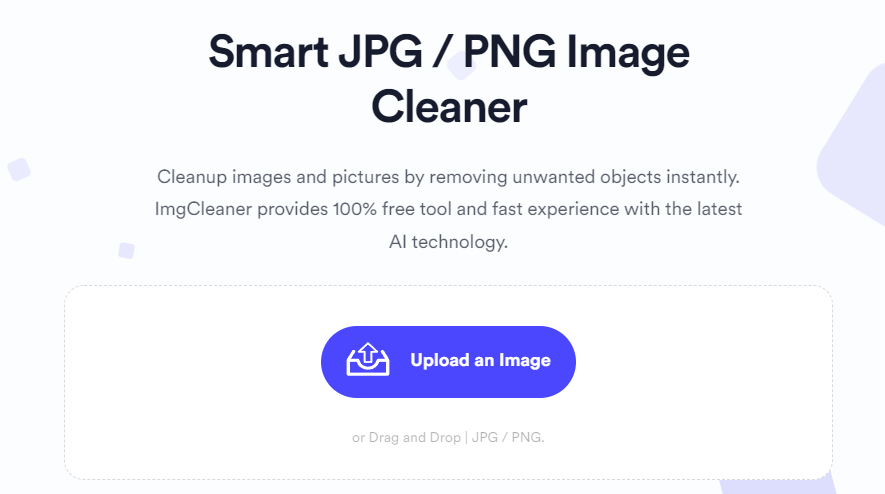 ImgCleaner, ranked first by Google, is the first artificial intelligence and machine learning tool on the internet for removing background and unwanted objects from images.
It works with all types of images, no matter what the background is, even if you are not an experienced editor.
With this tool, you will not only be able to remove backgrounds but also remove objects with super accuracy as well. This tool removes 99.99% of unwanted objects, watermarks, spots on the skin, and background with excellent accuracy.
2. Photo Retouch
For those who wish to retouch their photos without complication and in seconds, Photo Retouch is a very helpful application.
Remove the content you want to remove by selecting "removal of objects" and applying the changes. Delete those elements that you don't want to appear in your photographs and take your photography to the next level.
There are a number of other functions contained within the application, such as quick repair, cloning elements, removing watermarks.
Furthermore, you can share the photos directly from the app on your social networks and other platforms.
3. Snapseed
Among our list of alternatives, Snapseed is mainly an app for removing objects from photos. There are a number of tools that will assist you in maximizing your captures. Filters, textures, superimposing images, correcting colors, and removing elements from the image are just some of the things that can be done.
It is precisely the tool "corrector" that is perfect for removing what you do not want to be visible in a photograph. Whenever you open an image in your computer, click the Delete option and then carefully select with your finger what you want to delete, and then you will be amazed to notice how magically it disappears when you click the option.
You can publish your corrected image on social networks, share it with your contacts, or simply print it for your files to always keep them with you. Once you have exported your image to your computer, it is ready for publication. There is no doubt that this is one of the most popular apps out there.
4. Remove Object
The name suggests that this tool only performs one function, but it does it perfectly. If you are looking for an app to remove people from photos directly from your smartphone, Remove Object is a great option to consider.
A photo can be edited by simply selecting the elements you want to delete, shading them in red, and processing the picture. Your improved capture is just a few clicks away.
To take your photos to the next level, you can also make minor color corrections, texture changes, skin changes, and more on your photos. If you want to try it, it is completely free.
5. Photoshop Express
There are two Adobe alternatives on this list of the best apps to remove objects and people from photos, the first being Photoshop Express. You can get amazing results from your photographs with this very versatile tool.
With this program, you can edit your photos, apply effects, filters, and modify parameters in order to make them look even better. Reducing noise, controlling blur, correcting perspective, and removing unwanted objects is some of the things you can do when editing your photos.
Besides that, you can add borders and texts to images, add filters and effects, as well as create collages. Any photography fan needs to have this app on their mobile device. It's totally free.
6. YouCam Perfect
Your photos can be enhanced and retouched instantly with YouCam Perfect. Among its features are the ability to correct images, to apply effects, filters, to create collages, and to personalize photos.
It is certainly possible to remove objects. The background of the image can be removed, as well as people and elements. Obviously, the free version does not include this feature.
You can eliminate objects in an unlimited way by purchasing the premium version if you want all the benefits. In either case, many people may find the free option sufficient.
7. Touch Retouch
Touch Retouch is the latest app for removing objects from photos for free. This amazing app allows you to touch the screen to remove objects and people from your images.
If you are a photography fan and like capturing your surroundings, a smartphone will become your most important companion if you have the ability to retouch and fix your images in seconds.
You don't have to worry about deleting objects or people anymore because you have all these apps available. It is as simple as focusing, capturing, and enjoying.
Conclusions
With the apps listed above, you can remove the unwanted objects from a picture for free with the highest quality possible thanks to artificial intelligence (AI).
In fact, there are even online web-based apps that allow you to remove objects or backgrounds from images in a matter of seconds without having to download anything.
If you have any suggestions or comments on background remover apps, please do not hesitate to let me know.