People are looking for a system that can remove viruses, spyware, malware, and Trojan from their Android phones. They have been concerned due to data loss and theft, operating system vulnerabilities, overloaded web servers, and hardware failure. Due to the sudden introduction of Trojans and viruses, your phone system seems normal but the software (operating system) gets damaged day by day.
Viruses are introduced to someone's phones through emails or text messages sent by hackers. The viruses can enter your smartphones when you install an application which is not protected by antivirus software. Users are suggested to protect their phones with a strong password and not accept emails from unknown senders.
When virus cleaner apps are introduced, your cell phone became protected from extortion viruses, ransomware, adware, and malware. You can find easily if your phone is engaged with viruses when your phone is overheating, an unexpected app appearance, battery drainage, and unexplained fees on your bills.
Virus Cleaner Apps usually scan unwanted insertion of viruses and improve the performance of users' smartphones. These apps eliminate junk files, unnecessary cache, browser cookies, and malicious activities. They boost the efficiency of your phones by stopping the replication of files due to viruses.
Following are the virus cleaner apps for Android in 2022:
Avira
Avast Mobile Security
Trend Micro Mobile Security
Bitdefender Mobile Security
Kaspersky Antivirus
Avira is a virus scanner and cleaner application that manages your phone's online activities. It works with a VPN that protects your digital data through encryption. Users can resolve their troubleshoot issues and manage their network traffic using the benign tools of Avira.
This application is an antivirus that controls the insertion of known or unknown malware and protects your phone from compromised routers, packet sniffers, and ISP snooping. It offers comprehensive cybersecurity and cleans your device's storage and memory with a system optimizer.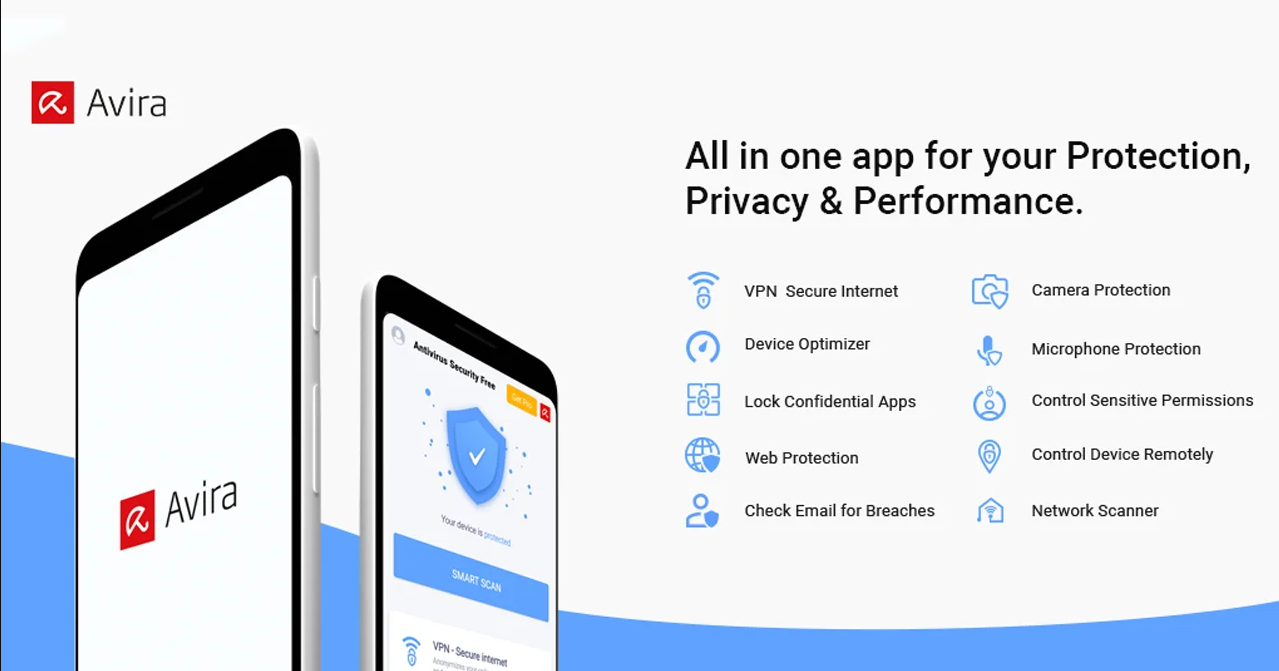 This platform ensures that third-party agents do not hack and access your data. You can easily browse the internet with an integrated VPN and do not worry about anonymous surfing. Its VPN manages internet connection usage as a free Wi-Fi accepts many criminal activities accidentally.
Avast Mobile Security scans your mobile phones with automatic internet security checks. It provides a privacy adviser to the users' system that suggests which applications are acceptable for downloading. It protects their mobile phones from the threats given by third-party agents and informs them someone is hacking their phone.
This application eliminates strange sounds during a call which is a sign of the introduction of some malware into your phone. It improves poor battery life and prevents unnecessary activity when users' data communication is disabled for about twenty minutes, called standby mode.
This platform contains six layers of protection with artificial intelligence which suspects hacking cases on your smartphone. It uses sensitive web browsing data to monitor your phone's suspicious activity. It recommends cleaning your memory and storage when your phone is overheated repeatedly, even when not in use.
Trend Micro Mobile Security is one of the best malware scanners that keep your Android cell phone secure and safe. This application optimizes the Android phone to get fast performance. It is a trusted application that helps you to keep your Android phone safe from malware and other threats.
This platform enables users to get high security with robust features that protect their devices from different viruses. It quick scans the system startup files, the system's memory files, and boot sectors. Users can manage their network traffic by redirecting their data via VPN server. They can browse and identity the activity from hackers and hide their IP address recommended by trend micro mobile security.
Trend Micro Mobile Security protects your device from ransomware, harmful websites, and unwanted access to your device, malicious apps, and unsafe Wi-Fi networks. It has many significant user features, such as monitoring data usage, in-app security reports, parental controls etc.
Bitdefender Mobile Security is a robust virus scanner that helps users keep their phones optimized and malware-free. This application protects your mobile phone from viruses and malware threats and keeps your device in its original and best state.
This application has many amazing and robust features such as web protection, scam alert, autopilot, performance saver, app lock, and many more. It also secures your online presence by encrypting all internet traffic. It is the best antimalware application full of unique features.
Bitdefender Mobile Security is the best protection for your Android smartphone and tablet. It remotely locates, locks, and wipes Android devices in case of loss or theft. It is a lightweight application that puts minimal impact on your device and takes very less storage of memory.
These apps do not let the viruses damage your phone's memory and drain smartphone's battery quickly. Your phone gets hung repeatedly and the phone is restarted automatically when viruses are not removed. Your cell phones may start abnormal data consumption, unexpected charges on the phone bill, and automatic downloading of irrelevant application due to viruses.
Kaspersky Antivirus protects Android devices from spyware, malware threats, and other viruses. It has the best antivirus protection engine that secures your Android smartphones from viruses' attacks. It gives different and manageable scan options for users to choose from.
It comes up with many amazing and unique user features, such as safe money, password manager, backup and restore, protection for kids, selective scan, database update, and many more. It quick scans the system startup files, the system's memory files, and boot sectors.
Kaspersky Antivirus is easy to use with a user-friendly interface. Its scanning results are excellent, and it optimizes mobile performance. It also blocks unwanted calls, protects browsing, scans antivirus, and provides app lock for users' personal data safety.
This platform prevents from data theft which can be operated by third-party agents. It regularizes the processing speed and block many pop-up ads appear on your mobile screens. Viruses usually duplicate their copies and they collectively slow down the performance of your mobile phones.
Final Thoughts
Virus cleaner apps for Android have solved users' problems regarding the sudden introduction of malware, viruses, and spyware on their mobile phones. These apps readily block and remove residual files, AD cache, and links from their mobile phones. These apps warn users when they will accept a suspicious link or attachment from unknown resources.
These apps suggest you quickly disconnect from the internet and reboot your mobile system when a virus is detected. These apps delete macro viruses, boot records and file infectors with the user's permission. They scan your mobile software and do not let viruses damage your phones.