With emerging and powerful technologies like Azure Serverless Integration Services, the number of Independent Software Vendors (ISVs) who invest in developing enterprise-ready BizTalk monitoring tool is limited. Still, thousands of enterprises rely on BizTalk Server as their on-premises integration platform. Although the product is very mature and stable, several gaps exist that can make daily administration and monitoring a complex and time-consuming task. In this blog, we compare several products for administering and monitoring your BizTalk Server environment that still exist in the current market.
How to choose the right BizTalk Monitoring tool?
Depending on among other things your footprint in BizTalk Server, the size of your (IT) organization, and the skill level of your administrators, you will have different requirements for the monitoring product that will be useful for you and your organization. Below, you will find several products that can be suitable for your BizTalk monitoring and administration tasks.
#1 BizTalk360
Saravana Kumar, the founder of BizTalk360, is a London-based Microsoft MVP who found several gaps in administering and monitoring BizTalk environments. Since its inception in 2011, BizTalk360 has fully focused on BizTalk Server. The product is a one-stop web application (no more switching between all those different consoles) that makes your day-to-day work with BizTalk Server easier and less time-consuming. It has rich administration, monitoring and analytical features, and BizTalk360 still improves because each 3 to 4 months a new version is released with new and improved features. Kovai.co, the company behind the product, is very customer-focused and uses customer feedback to make the product useful in every industry.
Key features
Access portals like BAM, BHM, EDI
Run messagebox queries and tracking queries
Rich security and auditing capabilities
Scales with your BizTalk footprint
Automated recovery options
Customer-focused product
Pricing
BizTalk360 has a subscription model of one or three years. Depending on the number of BizTalk servers in your BizTalk group, the BizTalk edition (Standard or Enterprise), and the BizTalk360 feature-based license tier (Silver, Gold, Platinum), you will pay a different license fee. A license comes with unlimited users and unlimited customer support. A free trial is available.
#2 Splunk
Splunk is an American-based company that, based on machine-generated log data, uses Artificial Intelligence (AI) to identify issues in your IT infrastructure. For example, with Splunk, you can ingest log data from BizTalk databases or log files. With that data, Splunk can find out if any anomalies are happening in your BizTalk environment. Once an anomaly has been found, Splunk can send notifications via email, Microsoft Teams, Slack, PagerDuty, etc.
Key features
Application Performance Monitoring (APM) product
Monitors more than just BizTalk Server
Ingests different types of log files
Finds anomalies with AI-based technologies
Rich set of notification channels
Pricing
For Splunk Enterprise there are both volume- or compute-based pricing options available. You can use their Free option to explore Splunk Enterprise with one user at up to 500MB data ingest per day. Licenses come with unlimited users. Standard support is included, Premium support is available.
#3 Nodinite
If you are in the market for an End-to-end monitoring solution, Nodinite might be the product you need. The product can be considered as a replacement for BizTalk Server BAM. It uses the BizTalk Server Tracking database to collect message events and payload data to show how your integrations flow and can monitor non-events. Nodinite is a more powerful solution than BAM in terms of monitoring, reporting, and (long-term) archiving tracked data.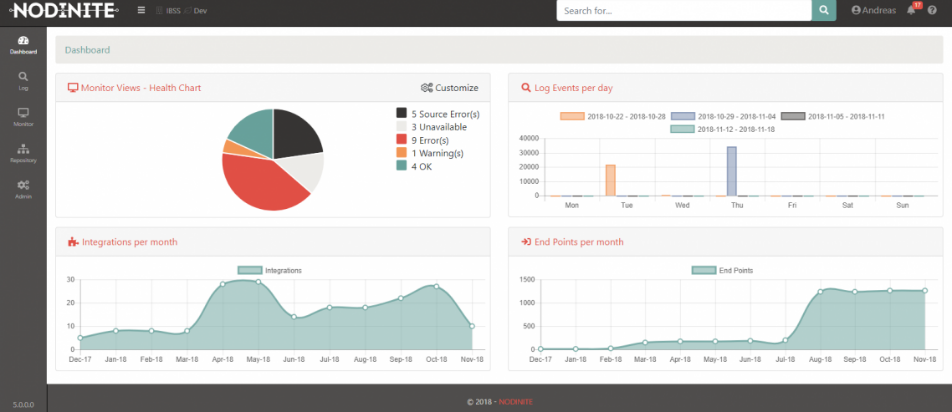 Key features
Business view on BizTalk Server transactions
Uses BizTalk Tracking data for data collection
View message payload in a user-friendly way
Flexible reporting capabilities
Monitoring of non-events
Pricing
Other than the statement that based on the company size in one price, all the features are included, no detailed pricing information could be found. A free trial is available. Unlimited number of users is included.
#4 AIMS
AIMS is a performance monitoring and analytics solution for BizTalk Server that combines the latest AI and machine learning technology with a deep focus on BizTalk integrations. With AIMS, you get real-time transaction tracing and latency monitoring – down to individual ports and orchestrations, end-to-end through the complete value chain.
Key features
Uses AI and machine learning
SaaS and agent-based solution
Visualize BizTalk integrations
Predictive BizTalk anomaly detection
Real-time BizTalk analytics
Pricing
No pricing details could be found in the website.
#5 eG Innovations
With their eG Enterprise product, eG Innovations provides monitoring capabilities for BizTalk Server. The product has both agent-based as well as agentless monitoring. Components that can be monitored include the Message Engine, Orchestration Engine, Application processes, the Operating System, the network, etc. As far as we know, eG Enterprise supports BizTalk Server until version 2016, which is not the most recent version of BizTalk Server.
Key features
Application Performance Monitoring (APM) product
Monitors many relevant BizTalk components
Agent-based and agentless monitoring
Uses Machine Learning for automatic baselining
Fully-fledged SaaS deployment
Pricing
eG Enterprise has pricing based on the different available deployment models, which are Saas/Cloud (starts at $125 per month), Subscription (starts at $100 per month) and Perpetual (minimal configuration starts at $10,000). Licenses required for APM, unified monitoring, or enterprise application monitoring are based on the number of operating systems, storage devices and hypervisors you need to monitor. For digital workspaces, licensing can also be based on users accessing your workspace (named or concurrent).
#6 Zabbix
Like most of the other products mentioned in this article, the open-source monitoring solution Zabbix is an APM product. Although its customization capabilities enable to set up monitoring of BizTalk Server, there is no out-of-the-box support for BizTalk Server. It is also important to realize that Zabbix is UNIX-based, so although the product can monitor Windows platform-based applications, the server-side installation must be done on a UNIX/Linux-based platform.
Key features
Application Performance Monitoring (APM) product
No out-of-the-box support for BizTalk Server monitoring
BizTalk Server monitoring is done via customization
UNIX/Linux-based server-side installation is required
Agent-based monitoring
Pricing
Zabbix is Free and Open Source Software; however, if you use Zabbix in a commercial context, Zabbix request you to support development of the product by purchasing some level of commercial support.
And the winner is: BizTalk360!
Now that we understand several BizTalk monitoring tools, BizTalk360 is considered as the overall winner. Most of the other solutions are so-called Application Performance Monitoring, or APM, products. Such products are designed to monitor the performance and health of multiple different software products. As a result, such solutions can monitor some relevant components of BizTalk Server but miss the deep integration with and understanding of BizTalk Server that BizTalk360 provides.
Besides the rich monitoring features the product provides, it also makes it easier to access the BizTalk environment because the BizTalk360 portal has features that are used daily by BizTalk administrators. Examples are accessing and controlling BizTalk applications, ports, orchestrations, and host instances. But there are also screens to access portals like BAM, ESB, BizTalk Health Monitor (BHM), a web-based Business Rules Composer, and several relevant SQL Server features. You can also create security profiles, giving everybody exactly the permissions they need.
How BizTalk360 solves BizTalk Server monitoring problems?
The product can automatically monitor the important components in your BizTalk platform that must otherwise be monitored manually. Setting up monitoring is easy, and when something unexpected happens, you can be notified via e-mail, Microsoft Teams channels, ServiceNow tickets, Slack channels, etc. The product even has automated recovery features that help improve the availability of the BizTalk platform and reduce the workload of the BizTalk admin team.
The advantages of BizTalk360 over other monitoring tools
Having compared the above solutions, BizTalk360 is most suitable as a BizTalk monitoring tool. The product is not just strong in deep monitoring of BizTalk Server; it also has extended administration capabilities and provides all kinds of statistical information about your BizTalk Server deployment.
BizTalk360 clearly makes it easier and safer to work with BizTalk, even if you are less knowledgeable about BizTalk.
Conclusion
Many enterprises are still using BizTalk Server, and without proper tooling, monitoring, and administering the environment is a lot of manual work. Most of the products we compared have some out-of-the-box support for BizTalk Server monitoring. However, those products don't have the rich feature set BizTalk360 has. So overall, BizTalk360 is the ideal product for monitoring and administering BizTalk environments.