Text Analysis, Text Mining, or Text Analytics are the terms used interchangeably to describe the process of extraction of data or insights from unstructured text. The text analysis tool helps companies/businesses make better decisions by extracting keywords/entities or by classifying text by sentiment, intent, or topic.
Today, many businesses and enterprises build their own personalized text analysis tool.
Having said that, one must be aware that building a complex AI tool from scratch is not at all an easy task if you do not have an in-house team of machine learning experts. Well, in that case, the good news is that the market is flooded with many great SaaS and open-source tools. These tools are a lot more affordable and reliable than building your own.
Benefits of a Text Analysis Tool
Before we dive into the tools let us know in brief how can a user benefit from a text analysis tool:
Identifying patterns and trends in large amounts of unstructured and structured text.
Text data helps users gain insights, which they then use to take appropriate action.
The use of analyzed data is critical to understanding and meeting the needs of both customers and employees.
Using analyzed data, you can detect potential problems as early as possible.
Check out this list of the 5 most sought-after Text Analysis tools that you can start using right away.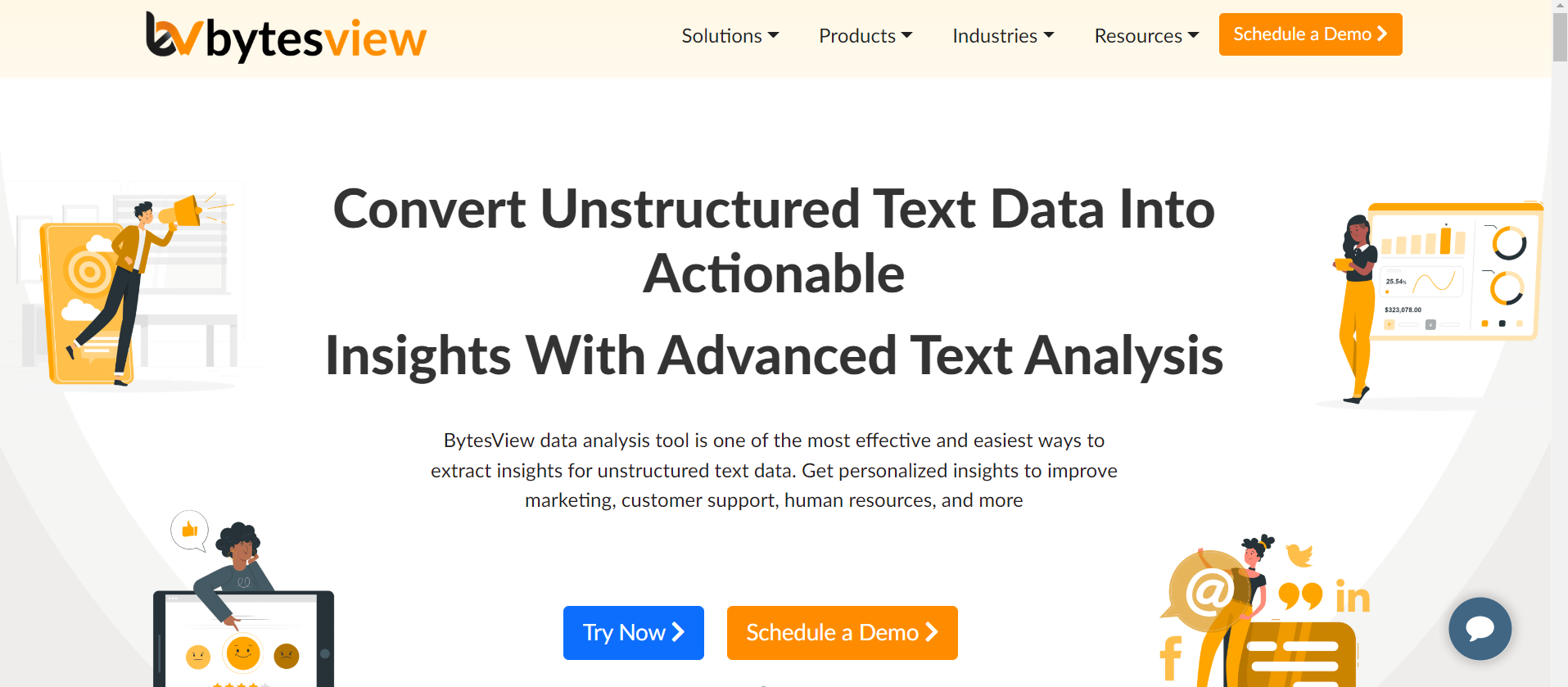 BytesView is an all-around text analysis solution for extracting insights from different sets of structured and unstructured data. It enables the analysis of any piece of text using machine learning and natural language processing (NLP). This data analytical tool pushes the boundaries of automation with its wide range of features. It provides a list of text analysis tools such as:
Sentimental and Emotional Analysis,
Named-entity Recognition,
Keyword and Feature Extraction,
Topic Labeling,
Intent Detection and
Semantic Similarities.
The text analysis feature of BytesView can process and analyze large volumes of textual data. For easy integration of data, this API comes with various plugins such as Voice of Customers, Voice of Employee, Customer Support, Text Analysis for Research and Academic, and much more. The best feature about this tool is that along with versatility in its applications it also provides a smooth user experience.
BytesView allows the integration of its text analysis tool with a number of industries such as Airlines, Healthcare, Financial Services, Market Research Industry, Pharmaceutical, and Biotechnology and the list goes on. Keeping this in mind, businesses can gain personalized insights to improve certain aspects of their marketing, customer support, and human resources.
MonkeyLearn is a text analysis tool that focuses on analyzing any form of unstructured text for quantitative content analysis. It automatically analyzes text from all forms of documents from social media, survey responses, customer feedback data, online reviews, etc. This easy-to-use analytical tool delivers actionable insights by extracting and analyzing data. Moreover, its integration with third-party apps such as Zapier, RapidMiner, Zendesk, Excel, and Google sheets gives easy access to your data.
It is a machine learning system that acts as a comprehensive text analysis API and performs tasks such as sentiment analysis, entity extraction, topic labeling, intent classification, and much more in a matter of seconds. One of the best things about MonkeyLearn is that you don't need to be a coder to decipher this text analysis tool. You can simply use any pre-trained text analytical model to tailor and achieve any data of your requirement.
This tool makes it easy to clean, label, and visualize customer feedback all in one place using the text analysis and data visualization studio. This data visualization feature allows the user to dig deeper into the data with greater granularity.
Lexalytics in its unique abilities is a complete text analytical platform. It is a three-tiered tool that provides targeted and valuable analytical solutions to all kinds of text-based business problems.
Salience (on-premise NLP), Semantria (Cloud NLP), and SSV (Storage and Visualization) are the three hosted text analytical solutions.
Salience: It is an on-premise solution offering text analytics solutions ranging from part of speech and tokenization to sentiment analysis, and theme extraction.
Semantria: It is a cloud-based customizable NLP that provides categorization, named entity extraction to sentiment analysis to match any specifications.
SSV: It is a Storage and Visualization suite that stores and analyzes unstructured data and arranges them in reports specifying the trends and patterns of the text.
Lexalytics is a cloud-based model that can be operated by any novice in the field of programming. It allows you to mold solutions as per need based on any pre-trained models. This tool, using its SaaS and cloud-based technology, helps to perform tasks such as sentiment analysis, keyword extraction, topic labeling, and entity recognition.
While talking about text analytical tools, you cannot miss out on the Google Cloud NLP. It is a text analysis solution provided by Google itself and it is best used by businesses that already have their data on Google's cloud and aim its integration with other apps. Google Cloud NLP comes in three forms such as AutoML Natural Language, the Natural Language API, and Healthcare NLP API.
This NLP mainly focuses on text analysis solutions such as content classification, syntax and sentiment analysis, entity extraction, and part-of-speech tagging (POS). It analyzes unstructured text using different AI and machine learning capabilities to distinguish emotions and syntaxes and comprehends dialogues to identify the entities within documents. Moreover, for a seamless text analysis experience, one can just tune their domain-specific keywords, topics, or sentiments within a pre-trained model.
Microsoft Azure known earlier as Windows Azure is a robust cloud computing platform owned by Microsoft. It is one of the big giants in the field of cloud computing systems. It provides a range of services but in this writeup, we are only highlighting its text analytical solutions. Its data analytics services provide diverse and real-time analytics and storage. It also covers services such as machine learning, business intelligence, big data analytics, the internet of things (IoT), data lakes, data streams, and data warehousing.
Its text analytics solution holds features of Machine Learning that extract, classify and understand the text within documents in multiple languages. These insights help gain a deeper understanding of customer opinions using sentiment analysis. It makes it possible to identify key phrases and entities such as places, people, or organizations to understand common trends and topics.
On top of that, one can also explore Medical terminology using domain-specific pre-tuned models. In a nutshell, Microsoft Azure helps drive agility and optimization for your business with its four comprehensive solutions such as broad entity extraction, sentiment analysis, document summarization, and medical text processing.
Conclusion
These text analysis tools are very cost-effective and provide a hassle-free experience. These tools, undoubtedly analyze and classify unstructured text in no time, and that too with utmost precision.
Now that we have discussed the tools and their benefits, it depends on you whether you want to use a readily available tool or build a new one from scratch. If you use the readily available ones, you first need to find out what exactly are your requirements and which tool exactly suits your purpose. However, if you are still confused, try experimenting with different APIs, trust me it always helps.