Marketing professionals have a challenging yet thrilling job. Their tasks revolve around generating leads, promoting products and services, boosting brand image, and generating sales.
Whether you're starting off as a marketing professional or establishing a startup, you'll need to use various marketing tools to make your job easier.
It's important to have the right resources and tools to be successful at marketing. These tools support the efforts of marketers, keep them organized, and save time.
There are plenty of marketing tools in the market — some free, some paid. Which ones should you use as a beginner?
It can be overwhelming to choose the right resources and tools from the diverse mix available. So we have compiled a list of the most appropriate marketing tools and resources for beginners, categorized by purpose.
Let's take a look at the top resources and tools for beginner marketing professionals:
1. Web Design
The website is the first point of contact for potential customers with the brand. Thus, you should put your best foot forward with a user-friendly and professional web design.
Web design includes a variety of factors like layout, graphics, content, SEO, and conversion rate optimization. It's an important part of your marketing and promotional efforts.
Also, it is a part of the digital marketing plan so it should be consistent in layout and design with other parts of the plan such as pay-per-click (PPC) advertising.
You can hire web designers to create the overall look and feel of your website from scratch using HTML, JavaScript, CSS, and images. Or they can use advanced web creation platforms that combine drag and drop with responsive design elements and even custom code addition.
Factors contributing to effective web design are:
Good user experience – If the website does not load quickly due to large images, GIFs, or videos, visitors are likely to be put off and may leave. Similarly, if visitors cannot find what they're looking for because the website's navigation is confusing or has broken links, they will not return. A good user experience is important to attract potential customers and encourage them to return.
Consistent branding – The layout and design of the website should be consistent with other marketing materials like whitepapers, guides, and product sheets. Elements such as font, logo, color palette, image types, and overall messaging should be on-brand.
SEO and content planning – The website content should be SEO optimized to improve its rankings on Google search. Updating the company blog with fresh content that answers user problems and uses strategic keywords is a good way to attract organic traffic.
Conversion rate optimization (CRO) – Good web design boosts conversion rate by encouraging visitors to take a desired action such as signing up for a newsletter or buying a product or service. More sales are generated by improving the design, layout, and content of online forms.
Advertising – The layout and design of paid ads that lead to landing pages on your website should also be on-brand. This reassures visitors that they have arrived at the correct website and builds credibility.
2. Content Research
Content research is important for a brand's long-term growth and visibility. It involves analyzing content online and developing a strategy based on insights gathered. Without content research, you will not know if the content you're producing is attracting your target audience.
Here are some tools and resources for content research:
Google Trends
Google Trends allows you to compare search volume patterns over a period. You can ensure your target keyword is still generating interest. You can also find related keywords.
Google Trends also gives you insights on which keywords are trending locally and globally, some of which you can use in your content strategy.
BuzzSumo
BuzzSumo is an online tool that helps you find out what content is popular by topics and websites. You can use it in four ways:
To find what type of content is getting shared on social media
To evaluate if the topics you're currently talking about are popular online
To find influencers who resonate with your content and will share it
To analyze data and trends to identify high-performing content
Quora
Quora is a Q&A platform where questions are answered in the form of opinions. You can use it to understand what your target audience is searching for. You can look for blog post ideas, suggestions for FAQ pages, or even drive traffic to your website by posting answers to questions.
Reddit
Reddit is an online discussion forum with specific subcommunities (subreddits) where you can get insights to improve your content, ask for feedback, attract backlinks, or find partnership opportunities with other marketing professionals.
Answer the Public
You can find ideas for blog posts or social media posts on Answer the Public, which gives you sample questions and related keywords for your target keyword.
You can type in a keyword associated with your brand and get a visualization of associated terms or topics that are currently trending.
3. Content Creation
Content may be written or visual and involves a series of steps before it gets a final shape, such as brainstorming, proofreading, or editing.
Some tools are available to help you create professional and attractive content. And the Internet is full of valuable resources to help you learn more about content marketing and digital marketing.
Canva
Marketing professionals use Canva to create visual content for marketing campaigns. The tool has thousands of high-quality design templates and icons and advanced image editing options.
You can create banners, infographics, brochures, social media graphics, and much more. The advantage of using this tool is that you don't need graphic designing skills.
Grammarly
Grammarly is an online writing assistant that uses AI to identify and correct errors in grammar, spelling, clarity, readability, and delivery in real-time.
It can be used across Google Docs, desktop documents, email clients, social media, or any other app. Grammarly has a free Google Chrome extension that catches basic errors in spelling, grammar, and tone.
Hemingway App
It is a tool similar to Grammarly, but you're required to paste your content onto the Hemingway editor. It identifies errors in spelling and grammar and analyzes the content for readability and overuse of passive voice.
Optimizing readability will help your target audience understand your message.
Copyblogger
Copyblogger is a great resource to find tips on content marketing, copywriting, SEO, keyword research, email marketing, landing pages, internet marketing, and related topics.
Contently Blog
Contently's blog, The Content Strategist, is a useful resource to gather actionable tips on improving your content strategy.
Vimeo
Vimeo is a video hosting platform that is preferred by marketers because it usually has better-quality videos than YouTube. You can create, host, and share marketing videos on the platform.
It has the following benefits:
No advertisements
Various user levels and payment plans
In-built tools to monetize videos and live streams
Shutterstock
Shutterstock is a stock photo website that helps you find images or vectors for social media marketing. If you're looking for free alternatives, you can try Freepik, Pexels, Pixabay, or Unsplash.
4. Planning and organizing
Marketers need to be active on several platforms at the same time. It helps to use planning tools to keep tasks and projects organized.
Here are a few simple ones:
Trello
Trello is a simple workflow tool that uses a Kanban-style layout to help organize tasks and projects. It allows you to collaborate with other people and keep track of everything without the need to constantly check in. It's quite useful for running a marketing campaign that has lots of moving parts. You can also use it for personal task tracking.
Todoist
Todoist is a task management application that allows you to set tasks and deadlines and assign tasks to team members. Its premium version allows you to collaborate with your coworkers. It can be accessed from a smartphone, tablet, or desktop. You can track the status of projects and receive notifications.
Asana
Asana is a project management tool that helps manage tasks, goals, and projects. You can collaborate with coworkers or share documents within your own team. It can handle project workloads of large teams. It has reporting tools like advanced searches, project progress reports, saved search reports, and portfolios.
5. Social media management
In 2020, 3.6 billion people were using social media and this figure is estimated to rise to 4.41 billion by 2025. Thus, having a social media strategy is important for brands.
Social media management tools help you understand what your target audience wants and enable you to study your competitors.
Here are some easy-to-use tools for beginners:
Crowdfire
Crowdfire is easy to learn and is used to manage multiple social media channels and campaigns. You can publish content on blogs, curate articles and images to share on social media, schedule posts, and interact with customers.
It offers customizable reports to help you track and measure ROI.
Buffer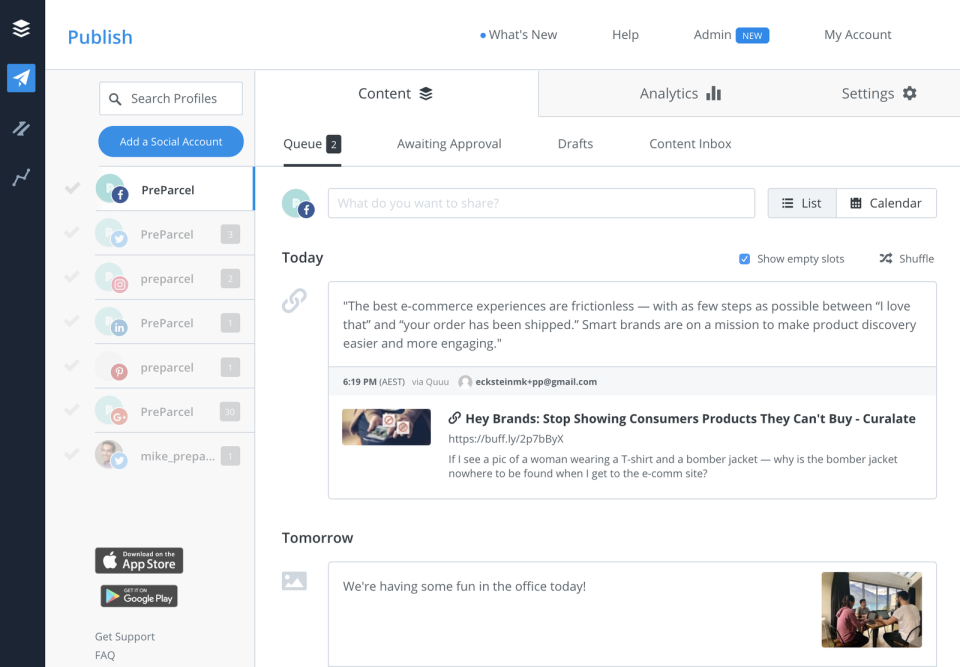 Buffer is a great choice for marketers who want an intuitive and simple platform to manage social media channels. It has an in-built calendar to view scheduled content across platforms together.
It has a great user interface and provides detailed reports to measure social media performance. It integrates with all major social media platforms such as LinkedIn, Pinterest, Facebook, and Instagram.
6. Email marketing
Email marketing generates a high ROI: £42 for every £1 spent.
Sending newsletters, promotional emails, or autoresponders helps you inform and engage your target audience and drive sales.
Here are a few easy-to-use email marketing tools:
Mailchimp
Mailchimp is a popular email marketing tool because it offers a forever free plan (with certain limitations, of course). You can launch and track multiple email campaigns in real-time.
It has an intuitive UI, a drag-and-drop email builder, list segmentation, autoresponders, professional email templates, and an integrated analytics tool.
Mailchimp can integrate with Shopify, Magento, and other ecommerce platforms.
EasySendy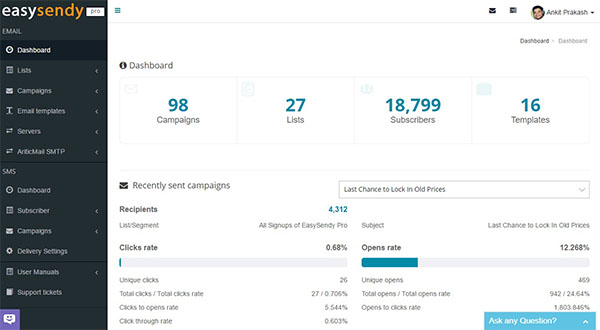 It is a cost-effective alternative to Mailchimp. It has different plans for different business requirements and advanced automation features like lead scoring, lead profiling, landing pages, and website engagement-based email campaigns.
You can send advanced email campaigns and monitor their performance.
Constant Contact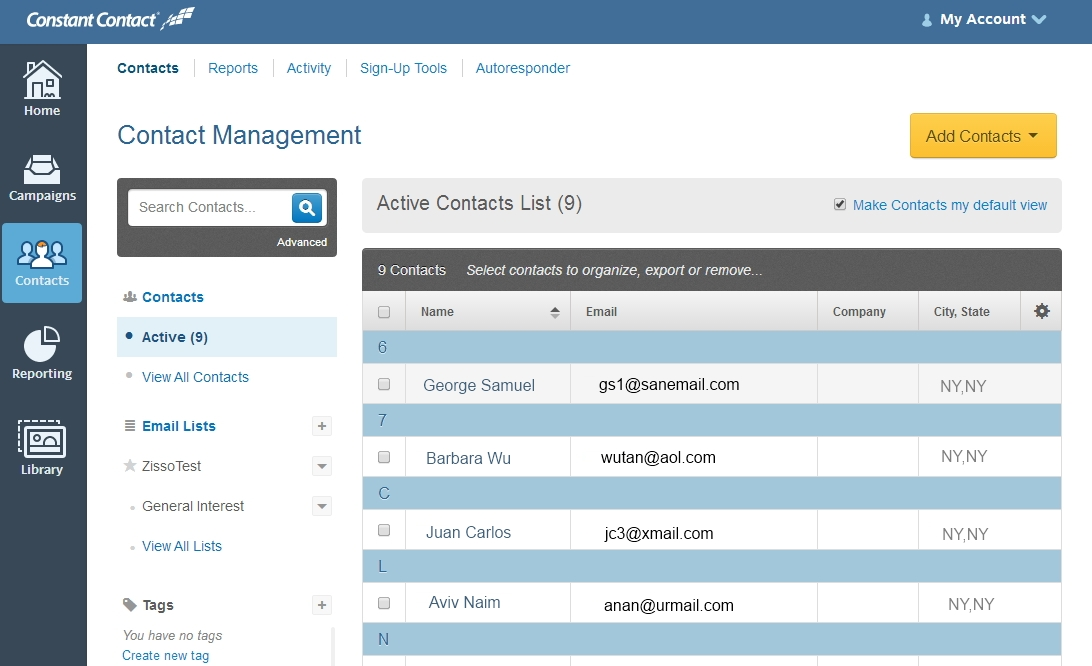 It is a beginner-friendly and easy-to-use email marketing tool and is especially suited for startups and small businesses.
You get access to unlimited emails, list segmentation, free image library, tracking and reporting, social media sharing, and ecommerce integration for Shopify stores.
7. SEO and SEM
A few tools to help you create SEO-friendly content and increase organic traffic are:
Google Analytics
It is a free tool that helps you with in-depth analytics of your website and optimization for SEO best practices. You can measure important metrics like page views, bounce rate, and average session duration. This enables you to identify which types of content appeal to your target audience.
SEMRush
SEMRush is a digital marketing tool that not only helps with SEO but also with competitor analysis and PPC ad campaigns. It has a wide variety of features like content audit, backlink analysis, organic traffic insights, and competitive research.
JetOctopus
It's a comprehensive tool suited for marketing teams of all sizes. JetOctopus is a visual SEO toolkit that helps you monitor and improve the SEO health of your website, including crawling, logs analysis, indexation, and so on.
You can identify SEO issues like 404 errors, keyword cannibalization, and duplicate content and fix them early. You can also improve your crawl budget and your site's indexation and identify fake robots.
Conclusion
The job of marketing professionals is to attract customers to a business. Using marketing tools and resources will make it easier for you to devise strategies and execute them.
As a beginner marketer, you will find all these tools easy to learn and simple to use. Once you have gained some experience, you could move to advanced tools that better suit your business needs.