Professional Services Automation (PSA) software is a powerful tool for managing the business operations of professional service organizations. PSA software provides a centralized solution for managing tasks, projects, and customer relationships, which can help organizations increase efficiency, productivity and profitability.
PSA software includes a range of features designed to help professional service organizations manage their everyday operations, resources, logistics, and financials. PSA software typically includes project management, resource management, time and expense tracking, billing and invoicing, analytics and reporting tools, and customer relationship management (CRM) tools. These features all work together to help organizations manage their end-to-end business processes.
Project Management: PSA software provides project management tools, which allow professional services organizations to manage projects effectively from start to finish. This includes scheduling, budgeting, resource allocation, and tracking. The PSA system helps users to identify milestones, critical timelines and schedules. The feature helps organizations to anticipate and manage changes that the project is likely to encounter, making sure to stay on track with their project goals.
Resource Management: Resource Management is one of the most critical features of PSA software. PSA software provides a centralized database for details about employee skills and availability, as well as project milestones and demands. Based on this information, the software's resource management tool assigns employees to projects and optimizes resource utilization. This ensures that the right people with the right skills get assigned to projects, keeping projects moving forward, and deadlines met.
Time and Expense Tracking: Effective time and expense tracking help professional services organizations bill accurately and remain profitable. PSA software enables organizations to track employee time and expenses across different projects, location, or regions. This feature helps organizations to identify opportunities for optimizing revenue streams by tracking billable hours and expenses, making sure that no time or expense is being left un-invoiced.
Billing and Invoicing: Billing and Invoicing feature in PSA software assist organizations personalize billing invoices, track payments, and manage overdue invoices effortlessly. With several different invoicing options, including time, expenses, flat-fee, percentage of project milestones, PSA software makes sure each invoice is accurate and always up-to-date. This feature also reduces administrative time spent by organizations in handling invoices and makes sure the timely payment of invoices.
CRM: Professional service organizations need to maintain a positive relationship with customers, and this is where the CRM feature in PSA software comes into action. It allows organizations to manage their customer interactions, activities, feedback, and proposals all in one place. It permits you to effectively manage opportunities, keep track of your pipeline, and helps to identify and remove any roadblocks that may be hindering the growth of your business.
Analytics and Reporting: PSA software provides a platform that produces actionable data for making splendid business decisions. Analytics and Reporting tools generate flexible, real-time reports for tracking progress, preparing financial statements, and forecasting. This data is critical in identifying areas of the business that need improvement and helps users to make informed decisions concerning future investments, workforce allocation, and project management.
PSA software is ideal for professional services organizations looking to streamline their operations, optimize resource utilization, and increase profits. This software provides a complete and integrated solution that facilitates process compliance and ensures consistent, efficient performance across all of your business operations. PSA software eliminates manual data entry, reduces errors, automates workflows, boosts overall productivity and financial performance while helping organizations to maintain a strong customer relationship.
Professional Services Automation (PSA) software from Projector PSA helps services firms track time and expenses, manage projects and schedule resources.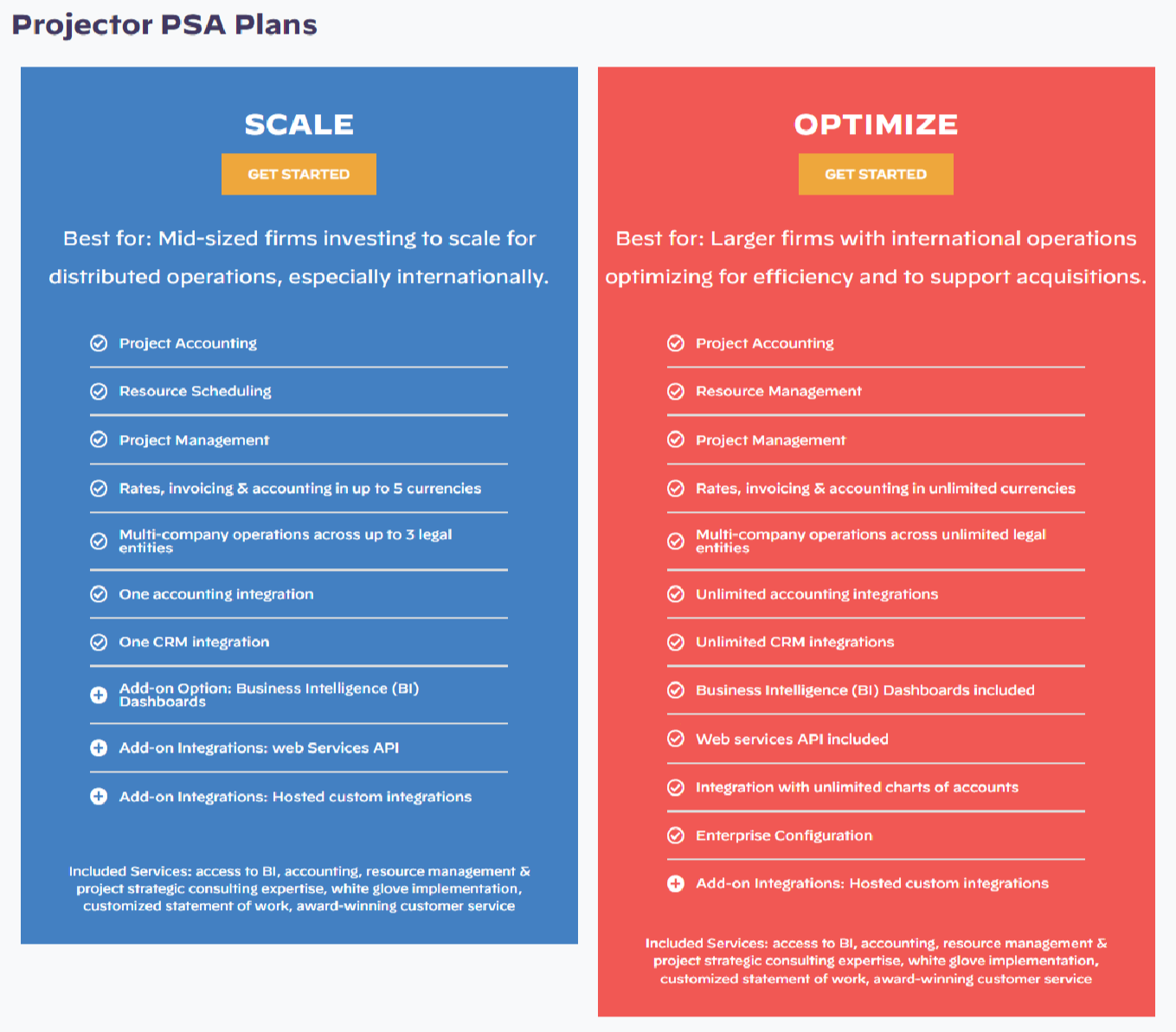 Maximize resource utilization by efficiently pairing up resourcing needs with available talent
Manage projects through all phases of their lifecycles, from scoping to closeout
Keep valuable billable resources focused on delivering great work by reducing administrative burden​
Maximize project profitability by ensuring projects are being delivered on time and under budget
Ensure both hard and soft factors are considered when staffing projects — from certifications to professional development interests
Monitor the health of the entire portfolio of projects to allow executives to intervene early and effectively
Keep track of what people are spending their time on, in order to keep people in that sweet spot between boredom and burnout
Track time and expenses invested in delivering each project and ensure clients are invoiced quickly and accurately
Put the right tools and visibility into the hands of the people who can make the greatest impact on your business: your delivery staff
Recognize revenue according to GAAP standards – neither too early nor too late
A professional services automation (PSA) solution integrating with HubSpot, Salesforce and Microsoft Dynamics. Featuring project management, task management, time tracking, and invoicing.
Keep track of the admin hours required to close a deal and factor that into your costs
Pinpoint and address recurring issues like scope creep
Forecast profitability and plan resources more accurately
Strategically target satisfied clients for up-selling and cross-selling
Track your best-performing and worst-performing accounts
Identify your best-performing team members
The Kantata Cloud for Professional Services leapfrogs traditional PSA solutions to boost productivity, optimize resource allocation, and better support your talent network with purpose-built capabilities you need.
Exclusive focus on professional services
Fills major functionality gaps in horizontal applications & PSAs
Equips businesses to plan and execute with fluidity and flexibility
Seamlessly integrates with existing technology and processes
Proven paths to transformational value for businesses like yours
Professional Services Automation (PSA) software built on Salesforce lets you manage your projects, people, finance with one view of the customer. Experience enterprise class scalability with FinancialForce, Professional Services Automation for Salesforce.
Connect your people and projects
Perfect the sales-services handoff
Deliver deep visibility and collaboration
Get a full view of project financial health
Submit time and expenses anytime, anywhere
Full lifecycle services forecasting
Workday Professional Services Automation software optimizes client-facing billable projects from start to finish.
The PSA solution to meet changing demands
Run great projects, from start to finish
Manage the full project lifecycle
Projects, financials, and more
Accurately track time from anywhere
Manage expenses the hassle-free way
NetSuite SuiteProjects Professional Services Automation (PSA) offers a unified way to manage projects, from billing, time tracking and expenses to accounting & more.
Deliver Projects on Time and Within Budget
Track Skills and Availability
Accurate Project Accounting and Billing
Scoro Professional Services Automation (PSA) software brings together all your business functions, enabling more efficient processes that boost profitability.
Plan ahead to optimize utilisation
Streamline workflows to increase productivity
Track customers, pipelines, and finances in real time
Get insights that boost your profitability
Put invoicing on autopilot
Forecast is a project and resource management software that helps project-driven companies automate operations, empower people, and leverage insights to drive business performance and client success.
Match people and projects
Maximize resource efficiency
Keep your client projects on schedule
Follow the project budget and keep it on track
Retrieve utilization reports in minutes not hours
ConnectWise PSA (formerly ConnectWise Manage) is an award-winning professional services automation (PSA) solution that connects your entire operation.
Improve internal communication
Enhance the customer experience
Experience peace of mind
Increase revenue & decrease costs
Upland – forecast services profitability with PSA software that increases resource utilization, accelerates project execution, and improves collaboration.
Automate workflows and approvals to match the way your business runs today and easily make updates when you need to
Get up and running quickly with what you need today. Add more advanced features when you're ready
Leverage pre-designed or custom training to set your team up for success from Day 1