IObit is a FREE screen recording tool that you can readily download in just a click. But this is not what makes it popular and the number 01 choice of the individuals and businesses.
The factor that makes it the top priority is the presence of various stunning features that exactly solve the problems of the users.
Thus, whether you are a blogger and want to share the tutorial video on the internet or a gamer and want to capture the gaming actions, no other free tool can turn out to be better than IObit Screen Recorder.
10 Features Of IObit Free Screen Recorder
Let's have a look at some of its stunning features:
1. No Watermark
Although, there are various tools out there on the internet but their free versions are never watermark free. IObit is a FREE screen recorder that allows you to record the HD videos without any kind of watermarks. You just need to un-tick the icon to disable the watermark.
2. Easy Editing Options
Unlike Cam Studio and other competitors, you immediately edit your video before saving it to your download folder. These options help you in customizing your video according to your unique needs.
3. Supports Various Video Formats
It allows the users to download and save the video in various formats such as MP4, AVI, MKV, FLV, GIF, TS, MOV and so on.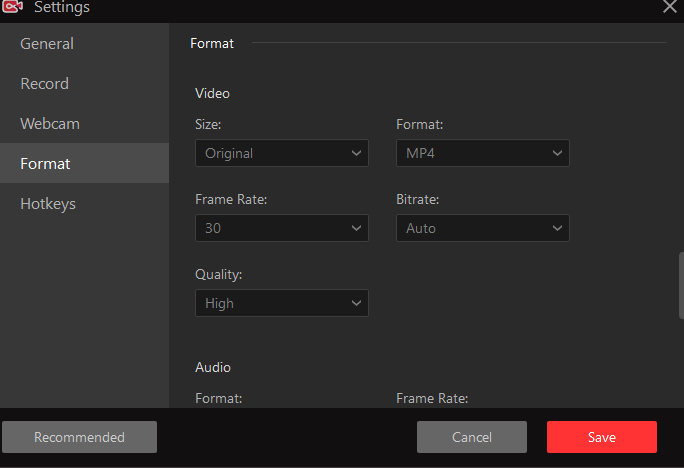 4. No Time Limit
With this free screen recorder, you do not need to worry about the time limit and can easily record it for as long as you need. This feature helps the students in recording the zoom meetings or other online meetings without the fear of being noticed.
5. Easy & Simple Interface
It is the top feature that sets it apart from the competitors. The interface is extremely simple and you can download and install this simple software in a few very convenient and apparent steps. The recording process is also super easy for anyone on the internet.
6. Allows You To Take Screenshots
During the HD recording, you can also take screenshots. It also allows you to create the visual elements and share them easily.
7. Safe & Secure Free Screen Recorder
Protection of the customers' data and private option is the first priority of the IObit Screen Recorder's creators. They have powerfully worked on the safety element and have ensured the implementation of technical and organizational safety measures. Thus, you no longer need to worry about malware or hacking issues.
8. Unlimited Video Length
IObit Screen Recorder does not put any kind of restrictions on the video length. You can make very long videos using this tool.
9. Video Transferring
It is undoubtedly a one-stop solution for incompatibility. Supporting 17 mainstream formats, it has the potential to transfer mutually & unlimitedly.
10. Download Replacing
While dealing with the free screen recorders, people often face the problems related to unstable network, download speed, content and time limitation, etc.
With IObit Screen Recorder, you can replace inefficient download and can make your screen capturing tasks much faster and efficient.
Conclusion
IObit Screen Recorder is the #1 Free Screen Recorder that is not merely a screen capturing tool, but also has various video editing and transferring features. It can bring you far beyond recording and we mean it!
Still, confused?
Download it right now in just a click.