An intrusion detection software is a software that helps you monitor your system and/or network for policy violations or any other malicious activity. If any are detected, the intrusion detection software will report back to you, giving you a number of solutions to handle the situation. After the detection is made the software will try to stop the possible incidents or, if that is not possible, to isolate the problem so it wouldn't cause any additional damage to your system and network.
The primary use of the intrusion detection software is to detect any possible events that will affect your system's well being, to record all the information available, to try to stop them and to notify the system administrators about the incidents. Also, intrusion detection software is used by large companies and organizations for purposes like recognizing problems with security policies, stopping people from breaking the security policies or documenting about possible threats. Nowadays, with the progress made by technology, nearly every company or organization is required to use the intrusion detection software in order to keep their private valuable information safe from outside attackers.
Using the intrusion detection software will not require any special skills, but if you don't know a lot about computers it is always best to notify the person responsible with the administration. In case a detection is made, the software will inform you about it and will specify the type of activity detected. The terminology used by the intrusion detection software is simple and easy to use if you have a bit of a knowledge about computers.
Here are some examples:
Alert – reports that the system in under attack
True Positive – an attack that produces an alarm
True Negative – no attack has occurred and no alarm is triggered
False Positive – an event triggering an alarm when no attack was produced
False Negative – an attack not being detected
Site Policy – a set of regulations that will guide an intrusion detection software's functioning
The intrusion detection software, like any other software, has some limitations, as the technology advance is very fast and every day new methods to trick the system are discovered. One of the main weaknesses is the high false alarm rate. Many things can generate a false alarm, from software bugs to Internet packets not being read and it is never pleasant to look for a problem where there is none. Another problem is keeping the software up to date. If you are not familiar with the term, you might be in danger. Many attacks target outdated versions of the intrusion detection software, so it is always important to keep it updated. If you don't know how, ask for help. You can never be to careful about it.
In conclusion, it is always important to use an intrusion detection software in order to secure the privacy of your information. Whether you are a domestic user or part of a larger organization, the risks are the same. People are always trying to access private information and the intrusion detection software is a useful tool that helps you keep them away.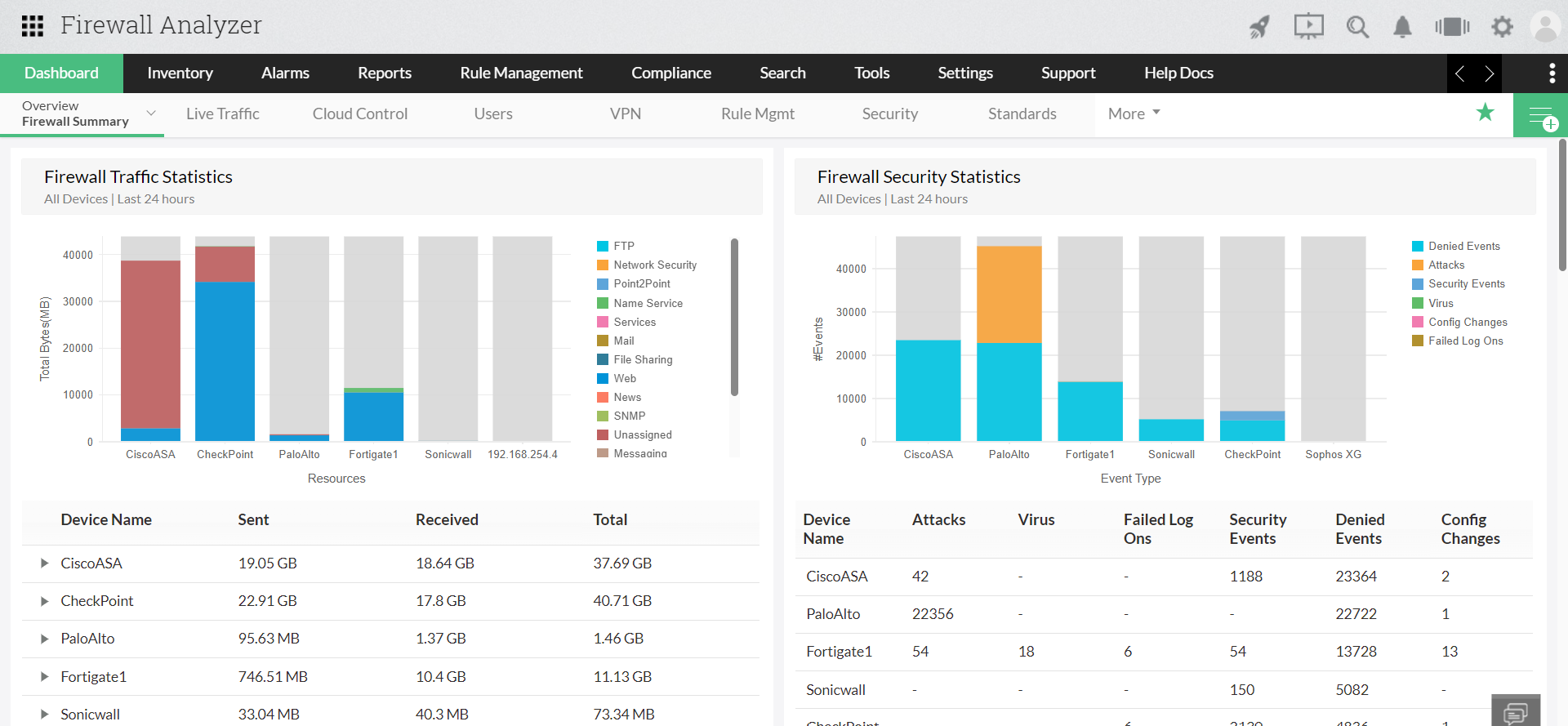 ManageEngine Firewall Analyzer is log analytics, firewall optimization, and configuration management software for network security devices.
Centralized firewall log management
Automated security and compliance reporting
Bandwidth monitoring and traffic analysis
Firewall policy management and refinement
Threat intelligence and event correlation
Built-in IDS and IPS monitoring
Secucloud Enterprise Solutions IPS is a state-of-the-art Intrusion Prevention System using a sophisticated ruleset for detecting and blocking all kind of malicious activity.
Fingerprinting current malware/C2/exploits and malicious activities
SNORT Engine
37.000+ rules and attack definitions
40+ intrusion categories
High frequent updates of rules and attack definitions
Extremely low false positive rate
Definition for channels and protocols of all major malware families
Network-based threat vectors
Most up-to-date call back, dropper, C2, obfuscating, exploit-kit exfiltration signatures today
Inclusive in-the-wild-CVE vulnerabilities and MS MAPP updates
Alert Logic seamlessly connects an award-winning security platform, cutting-edge threat intelligence, and expert defenders – to provide the best security and peace of mind for businesses 24/7, regardless of their size or technology environment
Pre-built automated deployment capabilities get you up and running quickly – start monitoring security threats in just minutes
Low-impact agents self-configure upon deployment and self-register/deregister for no-touch support of auto-scaling
Deployed agents encrypt and transmit your ingress, egress, and lateral network traffic to the Alert Logic backend for processing
We compare your network traffic with over 17,000 active IDS signatures that detect a wide array of attack methods, including exploits in web app frameworks, app stack components, and attack methods included in the OWASP Top 10
24/7 security monitoring, expert incident analysis and live notifications of critical attacks by security analysts in our global SOCs
Security Onion is a free and open source Linux distribution for intrusion detection, enterprise security monitoring, and log management.
HIDS alerts from Wazuh and NIDS alerts from Snort/Suricata
Asset Data from Bro
Full packet capture from netsniff-ng
Host data via Beats, Wazuh, syslog, and more
Session data from Bro
http/ftp/dns/ssl/other logs from Bro
Improve your security posture with an easy-to-use, affordable SIEM tool – SolarWinds Security Event Manager (formerly Log & Event Manager).
Centralized log collection and normalization
Automated threat detection and response
Integrated compliance reporting tools
Intuitive dashboard and user interface
Built-in file integrity monitoring
Simple and affordable licensing
OSSEC is a multiplatform, open source and free Host Intrusion Detection System (HIDS). You can tailor OSSEC for your security needs through its extensive configuration options, adding custom alert rules and writing scripts.
OSSEC is fully open source and free
OSSEC offers comprehensive host-based intrusion detection across multiple platforms including Linux, Solaris, AIX, HP-UX, BSD, Windows, Mac and VMware ESX
OSSEC helps organizations meet specific compliance requirements such as PCI DSS
Suricata is a free and open source, mature, fast and robust network threat detection engine. The Suricata engine is capable of real time intrusion detection (IDS), inline intrusion prevention (IPS), network security monitoring (NSM) and offline pcap processing.
IDS / IPS
High Performance
Automatic protocol detection
NSM: More than an IDS
Lua scripting
Industry standard outputs
Zeek is a powerful network analysis framework that is much different from the typical IDS you may know.
Adaptable
In-depth Analysis
Efficient
Highly Stateful
Flexible
Open Interfaces
Forensics
Open Source