We are all well aware of the goodness of PDF documents as they are reliable, easy to create, portable, universally compatible, secure, professional, and whatnot. So, for example, suppose you run a company and need to hire new employees. In such a case, you must develop an easily distributable, accessible, and, most importantly, editable document to assess the candidates' profiles briskly. For example, when we say 'editable,' what can be better than a fillable PDF?
Since you are here, you already know the value and importance of a writable PDF and the limitations of MS Word and Excel. But if you are still clueless about it, let us take you on a quick ride of what a fillable PDF is and how to create a fillable PDF effortlessly.
What Is a Fillable PDF?
A fillable PDF, also known as an editable or writable PDF, is an interactive PDF document with specific required fields to collect and store the users' information. It allows you to write and edit them without needing any PDF editor.
You can customize such a form for the users to fill the long open-ended (probe) questions or be quick with the short close-ended (polar-interrogative) or funnel questions and submit them using their devices. In addition, it helps assess the profile of the users of that form on the same grounds. For example, the users can fill in the blank spaces and mark the checkboxes for the things that apply to them.
Before moving on to how to add fillable fields in PDF, you should know the primary areas that are a must to know your users. Of course, your purpose of making one clearly defines the field names. So, for example, suppose you intend to make a contest registration form. To begin with, you can include the candidate's name, age, gender, address, postal code, city, state, country, etc.
So now, you can create multiple documents for all industries using an editable PDF. It includes various grounds, some of which include:
Resume or curriculum vitae (CV)
Job vacancy forms (entry forms)
Registration forms
Medical prescriptions/ Health check forms
Invoice/ vouchers
Schedules and questionnaires
How to Make a PDF Fillable
If you are looking for some potential hints on how to add fillable fields in PDF, we have a flawless path you can walk on to create one easily. With a flooded technical market, many players like SodaPDF, PDFescape, JotForm PDF Editor, Adobe Acrobat, and others are performing this job to serve your needs.
Here are a few quick steps to enable you to create a fillable PDF using the Adobe Acrobat software.
Step 1: Install the Adobe Acrobat on your PC.
Step 2: Go to the Tools tab at the screen's top and click the Prepare Form option from the head of Forms & Signatures.
Step 3: Select a Word file or scan a paper document, and Adobe will automatically analyze it to add the required form fields.
Step 4: If it seems necessary, you can also add new form fields like checkboxes and field names.
Step 5: Adjust the layout of your document using tools in the right pane of the top toolbar.
Step 6: That's it. Save your fillable PDF, or you can also click the Distribute icon to share it with the audience and collect their responses.
SwifDoo PDF: A Top-Notch Solution to Edit Your PDF Documents
SwifDoo PDF is a powerful PDF editor created with perfection to cater to its users editing needs. Instead, it is a one-stop solution to alter your PDF documents in numerous ways. Also, SwifDoo works smoothly on Windows computers and takes minimal disk space.
What Makes SwifDoo a Must Try PDF Editor?
Depending upon your requirements, you can use the SwifDoo PDF to perform any function on any document or even your fillable PDF to add and edit the non-interactive essentials like texts and images.
CREATE PDF
A PDF document has high compatibility with all the devices and makes for a perfect format for distribution. Even SwifDoo understands it and thus, enables you to create a new PDF file using multiple sources, including blank pages, scanner, and existing files like MS Office format, CAD, and images.
ANNOTATE PDF
Now markup and annotate your PDF documents, making them more interactive using the Annotate tool of SwifDoo. Highlight, stamps, notes, pencils, and shapes are a few common tools you can easily find. You can even view all the annotations using its Manage button.
EDIT PDF
PDF files sometimes require editing to make them crisp, and SwifDoo does that in a breeze. Using it, you can alter your PDF documents to correct typos, insert links/images/pages, crop the pages, remove content, change font style and color, generate superscripts and subscripts, etc.
CONVERT PDF
Now you can edit your document regardless of its format as SwifDoo allows you to convert them into PDF format within no time. You can easily convert your Word, Excel, PPT, CAD, Image, and HTML files to PDF format and vice versa in just three clicks.
MERGE PDF
Worrisome regarding merging and splitting your PDF files? SwifDoo has the right answer to cater to your needs. Now combine your multiple PDF files intuitively into one and split the larger files in a flash using this ace platform.
COMPRESS PDF
Usually, compressing a document degrades the file quality to a certain extent. But not anymore, as SwifDoo understands your concern and works to compress your files targeting the unessential data without compromising on the quality.
SIGN PDF
Adding e-signatures in an emergency can be daunting, but if you have the aid of SwiDoo, you can bypass all your worries. You can quickly add electronic signatures to your documents in three ways, using images, typing your name in blank space, and handwriting them (using a mouse).
PROTECT PDF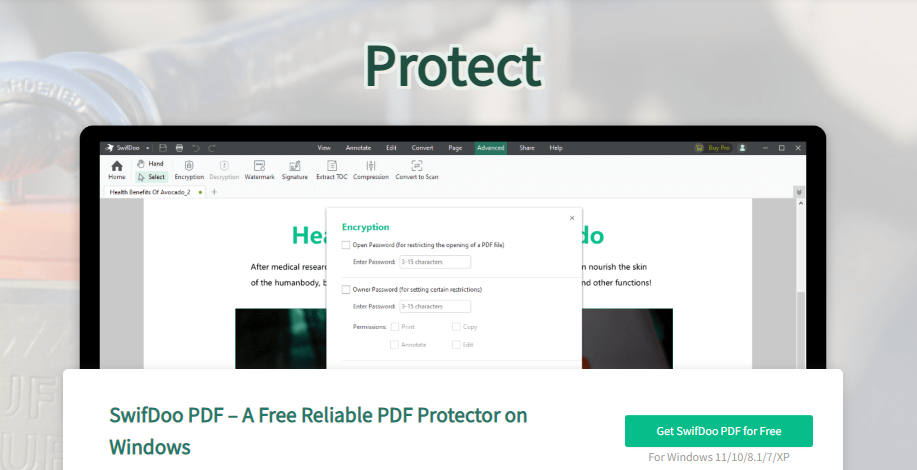 Your documents are absolutely safe and secured with SwifDoo. It uses an encryption tool, so the file deletes automatically from its servers, restricting unwanted access. Additionally, you can safeguard your files using two types of passwords, a user password to open your document and a permission password to limit specific features like editing, printing, and annotating.
The Bottom Line
A fillable PDF is a vital document in all areas of work. After going through this informative piece, you must have surely learned the trick to creating one effortlessly in a trice.
All you must be thorough with is your purpose of making one, and once you are sorted, you can quickly proceed with the steps to make a PDF fillable. Finally, SwifDoo takes charge of all your editing needs, so be assured as your PDF documents are in safe hands with SwifDoo.