As the world rapidly progresses into autonomous technology, everything and anything is getting connected to the internet.
Smart devices are all around us, with Even air conditioners, robot vacuums, dishwashers and refrigerators being teched out and connected to the web. Given this influx of technology into today's world, apps have become a ubiquitous and the natural way to interact with a brand or vendor.
There are an estimated 2.2 million apps on the Apple Store and approximately 2.8 million apps on the Play Store.
So what do you do if you want to create your own mobile app?
Do you conduct interviews to build a team of mobile developers?
Not really.
Developing an app has never been easier than today.
A number of services have been developed, called app creators that allow you to create your own app without requiring any coding skills.
Let's have a look at 7 of the best app creator software available online currently.
AppMakers have been in the business of developing trusted mobile applications for some time now.
If you already have a WooCommerce store, Appmaker will help build responsive and good looking apps for your online store.
The service allows WooCommerce store owners to convert their existing stories into native Android and iOS applications.
They boast an extensive clientele of over 500 stores spread out across more than 55 countries. If you're looking for an app creator software to take your business to the next level, this is one of your best shots.
It even has a free version that you can use.
AppMaker creates engaging apps which include push notifications. It includes a wide range of 3rd party integrations to ensure that your app works with any additional suppliers you use.
This service does not require any prior coding experience to get started.
Among its notable features are in-depth app analytics along with RTL support for full internationalization and a good user experience.
The service offers a free trial and requires no credit card registrations. Signing up is as easy as pie.
Another worthy contender in this list is BuildFire.
It is a very flexible app creation software that has a good offering for everyone.
BuildFire mainly offers three services. You can either use their software and templates to build a responsive and elegant app or use their existing team to build an app for you that meets all your requirements.
They also offer the option of letting you build apps for your customers on their platform.
BuildFire will do all of the heavy lifting so you can focus on spending your time and energy on designing the layout and functionality.
Their intuitive dashboard allows for real-time prototyping of your app to ensure you get what you want. They offer a wide range of plug-ins that integrate well into your app, extending its functionality and versatility.
If you wish to dive further into development, the BuildFire SDK helps you create robust and highly tailored apps to meet every need.
This software requires no prior coding experience and offers a 14-day free trial so that you can decide whether the service makes sense for you. You have literally got nothing to lose.
AppaGeyser is a free app creation service that helps convert all your web content into a fully functioning application in a few simple steps.
The software supports applications on multiple platforms and requires no coding background.
The service is capable of scraping the web and pulling content from YouTube, webpages, and other information sources as necessary for your app.
AppGeyser offers a wide range of templates and themes to choose from, making the app building process even simpler. The platform removes the need for any SDK, allows creating multiple apps, and also helps publish your app onto different stores.
The pricing model is different for this service. Instead of paying a fee, you pay the service 50% of the revenue from your monetized app.
Given the tons of features and functionality they offer, this seems like a fair deal. You can even sell your app on their platform if you wish to.
If you are looking to create apps for the Play Store, and you've already got some coding skills, why not use software owned by Google itself?
While this is a tool meant for developers, the Google AppSheet also gives users a drag-and-drop UI that makes app development very intuitive.
Google also offers a wide range of templates that ensure there's one that fits your needs.
Given that this a Google product, integration with their other services like Calendars, Sheets, Docs, Gmail, etc. is built right in.
The app development requires little to no code, and the process is quite seamless when integrating to other products.
If you prefer using Google as your go-to platform for everything, using the Google AppSheet is ideal.
Be advised that the older platform, Google AppMaker is now shutting down and all apps are transitioning to AppSheet.
AppsBuilder is an Italian app creation software that also features a drag-and-drop design at the core.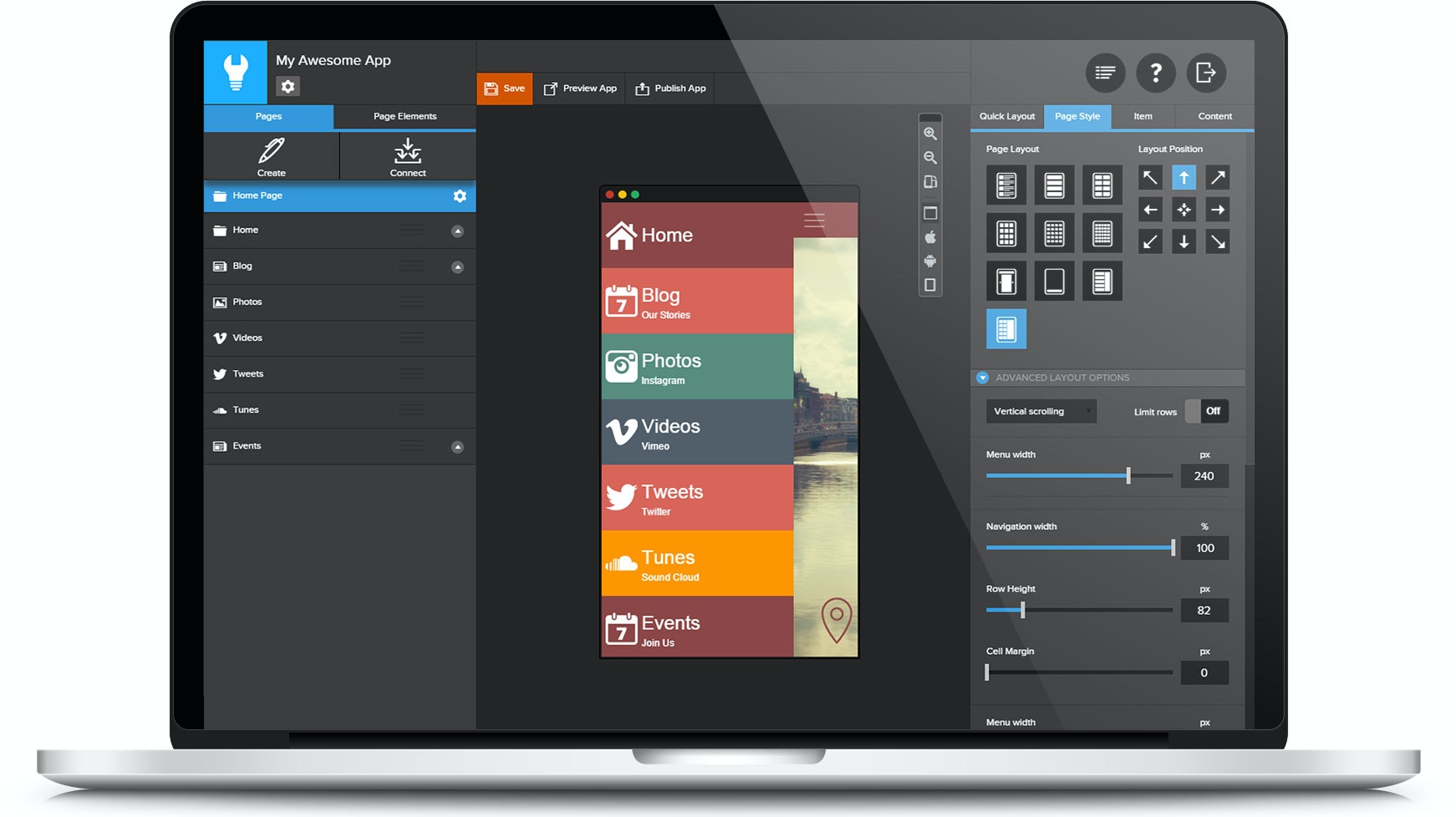 They have helped develop over half a million apps and counting to date.
The dashboard and the editor have many positive reviews from those who have used it. The software is not free, but given all its features, the price is very good value.
They offer three different packages, started, regular, and scalable at $52, $215, and $269, respectively.
AppsBuilder offers a wide range of resources that aid in the app development, from eBooks to templates.
The easy-to-use editor, combined with the available help from the service itself, makes this a no-brainer as a perfect app creator software.
Appmakr, recently acquired by AppiePie, which makes them the largest app development platform that requires no code.
The platform currently has a reach of over 10 million users. The service allows users to develop apps for Android, Apple, and PWA without any prior coding knowledge.
The software offers a ton of features and functionality that make app development a breeze.
Some of the features available for users building apps on AppMakr are in-built app analytics, social media integration, navigation, push notifications, photo, and video sharing, loyalty programs, and many many more.
The service also prides itself on helping build apps that are light and fast.
You can either create your add for free, but it will include ads, or else go for one of the subscription plans to give your users an ad-free experience.
This company was founded in 2010 and has grown into one of the leaders when it comes to mobile app development.
BiznessApps allow users to monetize their apps, integrate with efficient 3rd party services, apply for loyalty programs within the app, among many other features.
They do provide a free trial to test out the software's potential. The service also offers 24/7 customer support to ensure you have all the help you need during the development process.
While you can try this for free, the monthly pricing is quite steep starting at $300/month. However, this service is targeted at app developments agencies and/or app resellers. This makes the price point quite fair, given that the agency will then be providing these apps to their own clients.
Conclusion
Each app creator software mentioned here is good in their own right. Pick one that suits your preferences and works around your style. Although there are tons of other software available online, these are some of the products that we can vouch. If you are looking to develop an app, this should help you get the ball rolling.