Data safety and compliance are prominent concerns among Microsoft Office 365 users who decide to safeguard their production environments with NAKIVO Backup & Replication. Developed with an unyielding focus on reliability, NAKIVO Backup & Replication aims to counteract multiple threats to Microsoft Office 365 data by offering fast incremental backups and near-instant recovery. Ahead, find a brief overview of the solution's Microsoft Office 365 backup functionality.
Background
NAKIVO is a US-based corporation whose customer portfolio features SpaceX, Coca-Cola, Honda, and DHL, to name just a few. Emboldened by the impeccable track record of data protection in virtualized and hybrid environments, NAKIVO introduced Microsoft 365 backup functionality in the first quarter of 2020. Now, Microsoft Office 365 backup enabled by NAKIVO Backup & Replication is embraced by high-profile businesses around the globe who want to achieve data safety with a single software deployment.
Microsoft Office 365 Backup: Why and How
Microsoft Office 365 is many things, but it's not Fort Knox for data some companies mistakenly believe. Those who place misguided trust in the service's ability to retain and recover their data quickly discover that it lacks in many regards. For one thing, Microsoft Office 365 data is not entirely immune to phishing, ransomware, malware, and other external threats. For another, the threats emanating from within a company – turn cloaks, pawns, accidental deletion – can also be equally costly.
Not only does data loss cause operational disruption, but it can also bring severe legal and regulatory repercussions capable of undermining a company's competitive edge or downright bringing its business functions to a halt. To hedge against data loss, forward-looking businesses backup their core Microsoft Office 365 applications with NAKIVO Backup & Replication. Offered as additional functionality of the comprehensive backup solution, backup for Microsoft Office 365 data enabled by NAKIVO Backup & Replication is cost-effective, flexible, and reliable in equal measure. Let's break down NAKIVO's offering by the core Microsoft Office 365 applications supported by the company's solution.
Supported Applications
OneDrive for Business: NAKIVO Backup & Replication makes it easy to backup OneDrive for Business files. Not only that, but it also makes it extremely easy to find and retrieve data with its comprehensive search capabilities, which may come in handy in e-discovery cases.
Exchange Online: NAKIVO Backup & Replication allows you to run incremental backups of entire Exchange Online mailboxes and items they contain. The solution is exceedingly efficient at granularly restoring individual emails to a location of your choice.
SharePoint Online (coming soon): NAKIVO Backup & Replication has recently announced upcoming support for SharePoint Online. The v10.2 release will tackle the limitations of native SharePoint Online backup and restore functionality, thereby helping you maintain an incredibly high level of data safety.
Key Advantages of NAKIVO Backup & Replication
Incremental Backup
NAKIVO Backup & Replication empowers you to address multiple threats to your Microsoft Office 365 data. Use incremental backups to protect critical information stored across several Microsoft Office 365 applications.
Granular Recovery
NAKIVO Backup & Replication is capable of preserving up to 4,000 recovery points for your backups to provide you with a granular level of control over your data. These backups are stored in your local data center for an extra level of protection.
Advanced Bandwidth Throttling
To help you avoid network congestion, NAKIVO Backup & Replication offers advanced bandwidth throttling. The feature allows setting data transfer limits for both backup and recovery jobs as well as enacting global and individual throttling rules. For example, you can limit data transfer speeds to 40 MB/s during operational hours while leaving data transfer at the maximum available speeds for Sunday backups.
Flexible Scalability
NAKIVO Backup & Replication provides you with everything you need to protect thousands of Microsoft Office 365 users. The solution is billed annually on a per-user basis, thereby removing the expense of unused accounts. The flexible pricing model can be adjusted to the scale of your business, which will never be hampered by the lack of data protection when faced with increased production.
Backup Search Capabilities
The advanced search functionality of NAKIVO Backup & Replication allows you to locate any file in just a few keystrokes. Simply enter a keyword into the search box and the solution will instantly provide you with matching subject lines, emails, and addresses. Similarly, with a bird-eye-view of the backed-up mailboxes, finding folders and emails is a matter of moments.
Usability
From deployment to management, the solution offers unrivaled usability. It comes in a single package, the deployment of which takes mere minutes. An intuitive wizard will guide you through the key steps of backup job management, thereby simplifying the challenge of Microsoft Office 365 data protection.
How data is being backed up is as important as when you do it: poorly scheduled backup jobs can put an undue burden on your system's resources. For this reason, the solution offers an advanced backup scheduling functionality. The Calendar dashboard provides you with a comprehensive, color-coded view of your past, present, and future Microsoft Office 365 backup jobs. Use it to instantly locate available backup windows and create new backup jobs.
Customer Support
NAKIVO Backup & Replication features a built-in support chat so that you don't have to leave the application to get technical assistance. If you prefer other methods of communication, you can reach NAKIVO's experts 24/7 via phone or email.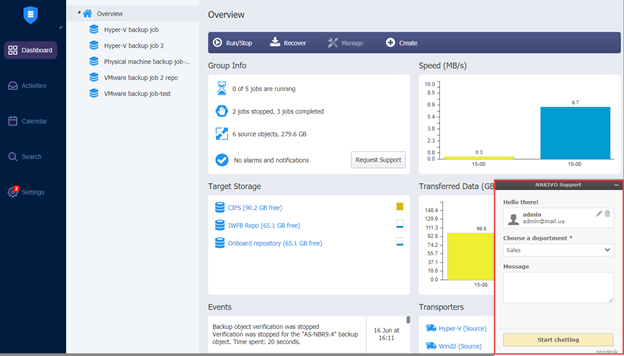 Pricing
Those seeking to backup Office 365 on a budget will be pleased to discover how moderate NAKIVO Backup & Replication prices are when compared to the competition. A 3-year subscription for the full-featured backup for Office 365 billed costs only $0.75 per user/month.
The Bottom Line
With its wide array of features neatly packed in a single deployment package, NAKIVO Backup & Replication is a robust Office 365 backup solution for SMBs and enterprises alike. Start your journey to comprehensive data protection by downloading the free trial now!