Infographics are one of the most powerful way for involving visitors and influence their behavior, engaging with more fans to your blog or social media. With an infographic you can show a lot of data in a visual and attractive way. But if you are not an expert designer, it not easy to create infographics until now.
Here in this article, I'll bring you a list of the best 5 Infographic generators, with which you will be able to create spectacular infographics even if you have no idea of graphic design.
DesignCap
Visme
Easel.ly
Piktochart
Canva
Then let's see them one by one:
DesignCap is an online infographic maker which allows even inexperienced users to create online infographics easily without installing additional software. It's optional to register. If you want to save images online, you'd better to register an account. The side menus allow you to create infographics from scratch or from a series of professioled designed templates. It's also simple to directly add content such as text, shapes, icons, images, etc.
It allows you to save your infographics online or save to desktop. A share button allows you to insert the infographic into the web page or send it via email through a link. As a consequence, DesignCap is ideal as a tool of disseminating the created graphics, either through social networks (Facebook, Twitter, Tumblr) or browser and email via URL.
It's very complete tool with which you can not only create amazing infographics, but also create presentations and product demos. In addition, you can use this powerful resource to make vivid animations.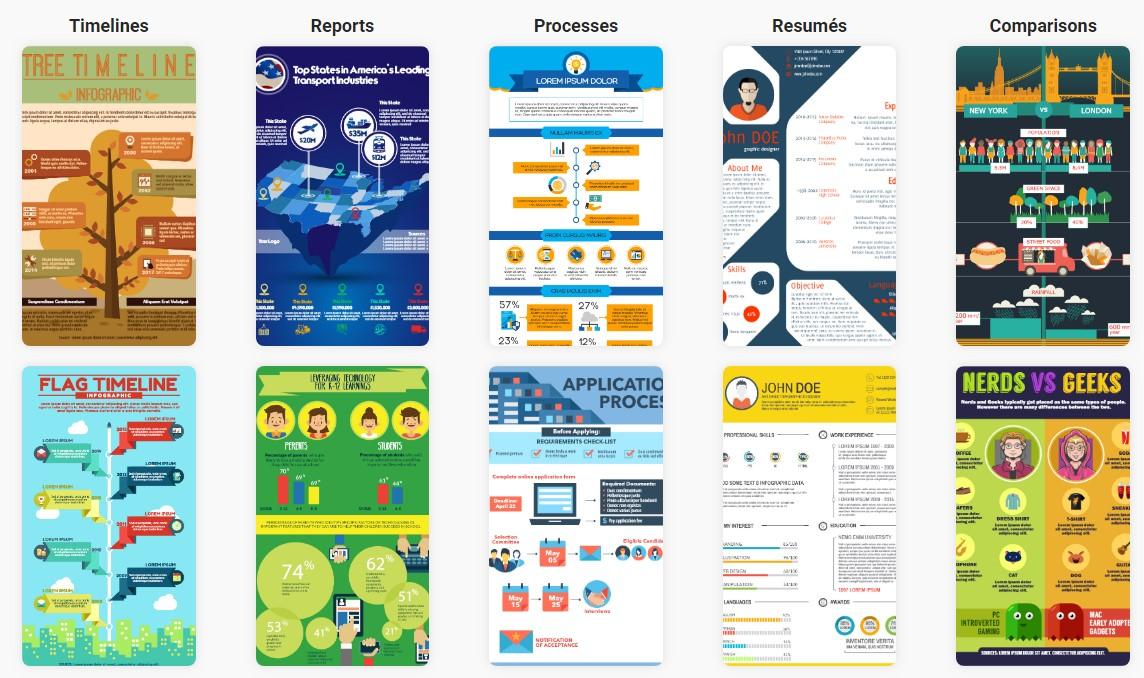 With Easel.ly tool you can create free and visually attractive infographics on numerous topics. The templates, objects, multimedia elements and icons of the free basic version allow for a more than satisfactory margin of creative freedom. Its clear and reduced menu facilitate the combination process of templates, icons, images and videos. You can move the elements and select the appropriate backgrounds simply by dragging them to the interface.
With the paid subscription to a Pro account, you can access to 1.1 plus billion icons for thematic creation of infographics (e.g., for the business and technology sectors), technical assistance and more, save a higher quality design, as well as additional privacy settings.
Whoever is looking for a tool to create infographics that is easy to use and in which design features play an important role, you will surely find in Easel.ly is what you are looking for.
With the Piktochart visualization tool you can not only create infographics, but also design presentations and printed documents.
Projects can be shared through Facebook, Twitter, Google, Pinterest or used to any website using its embed codes. Like some other infographic generators in the marketing, Piktochart requests personal information for free registration (name, company/educational institution, age and occupation).
Canva is an online tool that helps you create amazing designs for using both online and in print. With this tool you can access a huge library of graphics, images and fonts. The best thing about Canva is its simplicity; With a drag and drop interface, you will get amazing results with minimal effort.
Have any other best tools for infographic generating? Comment and share with us.